Winter Safety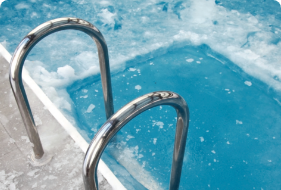 Did you know?
15% of children who drown in North Texas do so in the winter months.

Children who drown in winter months are more likely to have serious and adverse outcomes, such as brain damage or death.

In fact, almost 8% of children who drown in cold weather have a fatal drowning compared to 2% in warm weather.

Children who drown in the winter tend to be 2-3 years old and wander out of the home to the backyard pool unnoticed by caregivers, and are found too late.
Safety Tips
If a child is missing, the first place you should always look is the pool followed by inside your car.

Keep all doors and windows leading to the pool locked.

Install barriers of protections:

Non-climbable fence
Self-locking gates/doors
Alarm that lead to the pool area

Learn CPR.

Enroll your kids in swimming lessons.

Maintain your pool for visibility to the bottom and never leave toys in or around the pool.